What is an electronic cigarette?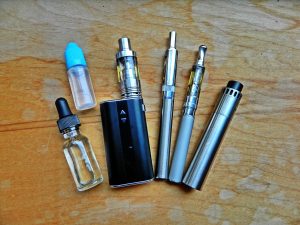 Electronic cigarettes (e-cigarettes) are battery operated devices that deliver a liquid mix of chemical ingredients to users as vapour instead of smoke. E-cigarettes come in many different shapes and sizes. E-cigarettes contain a cartridge that contains e-liquid. E-liquid can be made with or without nicotine.
People who use e-cigarettes inhale on the end of the e-cigarette like they would a real cigarette. The e-liquid is then turned into vapour which is inhaled into the lungs.  The mist looks like smoke when exhaled.  Using a e-cigarette is called "vaping"
E-cigarettes with no nicotine and no health claim can legally be imported, marketed and sold in Canada.
Related Topics