How Well is your Family Eating?
How Well is your Family Eating?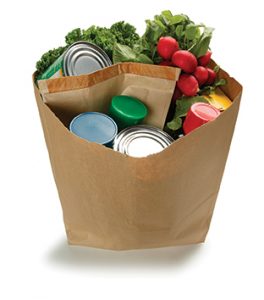 Making wise food choices includes considering the amount and type of food you eat each day.
Follow the recommended number of Food Guide Servings and the tips in Canada's Food Guide to help you and your family to make healthy food choices.
You can get a full copy of Canada's Food Guide at the Health Unit, or go to www.canadasfoodguide.info
A summary of Canada's Food Guide is on the next two pages.
To eat well with Canada's Food Guide remember to:
Eat a least 1 dark green vegetable and
1 orange vegetable each day.
Choose vegetables and fruit prepared with little or no added fat, sugar or salt.
Make at least half of your grain products whole grain each day.
Choose grain products that are lower in fat, sugar or salt.
Drink skim, 1% or 2% milk each day. Drink fortified soy beverage if you do not drink milk.
Select lower fat milk alternatives such as low fat yogurt and cheese.
Have meat alternatives such as beans, lentils and tofu often.
Eat at least 2 Food Guide Servings of fish each week.
Select lean meat and alternatives prepared with little or no added fat or salt.
Include a small amount of unsaturated fat each day like vegetable oils.
Satisfy your thirst with water.
Limit foods and beverages high in calories, fat, sugar or salt.
Breastfeeding women need 2-3 extra Food Guide Servings each day.
All women should include a multivitamin containing folic acid every day.
Reference:
Health Canada (online), 2012
Recommended Number of Food Guide Servings per Day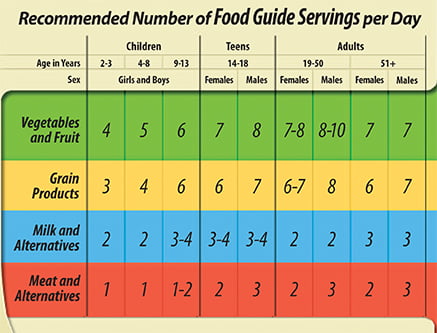 What is One Food Guide Serving?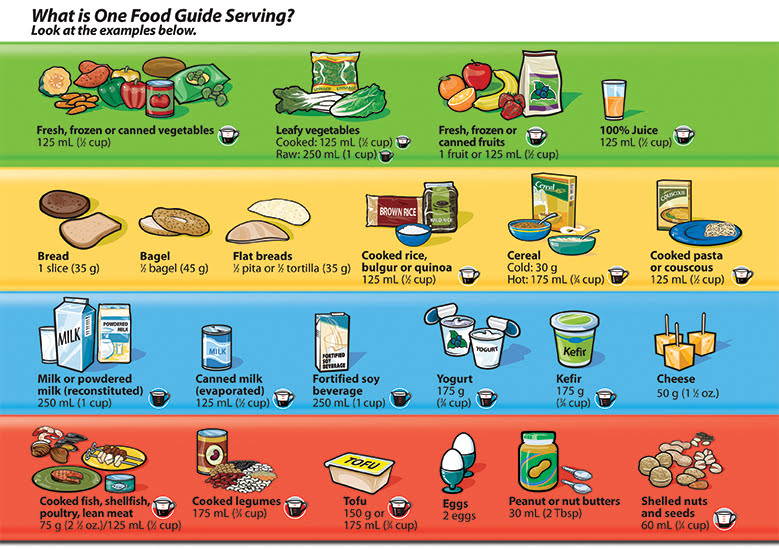 Related Resources