Schools across Haldimand and Norfolk are taking steps to make their school environment healthier.
See some examples of local schools using a healthy school approach to make a difference in their school community. Hopefully these initiatives inspire your school to make some healthy changes, or generate some new ideas to put into action.
Courtland Public School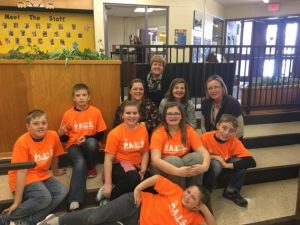 Courtland Public School has been busy making healthy changes. A Healthy School Committee was created consisting of the principal, a teacher, a parent and six students, along with a public health nurse and health promoter from the Health Unit. The committee completed a Healthy School Assessment and decided that physical activity and mental health would be their areas of focus.
The school has now started a Playground Activity Leaders in Schools (PALS) program. Fourteen student volunteers in Grades 5 to 7 received training and now act as activity leaders and run organized games at recess for students of all ages. Courtland's Healthy School Committee continues to meet and work on making their school an even healthier place to live, learn and work. Way to go Courtland Public School!
St. Frances Cabrini School
St . Frances, with support from the Health Unit, has been introducing the MindUp curriculum in many of its classrooms. The program provides teachers and students with simple activities and strategies to help create 'mindful classrooms' which can help students focus better, cooperate better with others and improve their self-awareness and self-control.
The Healthy School Committee at St. Frances has dedicated a bulletin board to show off healthy initiatives and information. Great work St. Frances!
Teeterville School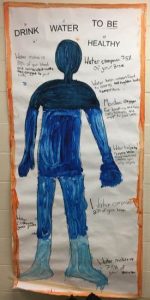 Teeterville School has been focusing on water awareness. They have water bottle filing stations with bring your own water bottle signs (B.Y.O.W.B) to encourage water consumption by students and staff. They have made posters of life size people and put them up on classroom doors to demonstrate the benefits of waters and to illustrate how we are made up of mostly water. The kindergarten class fundraised for a BioSand water filter in a disadvantaged village in honour of World Water Day, and the school took the Water Does Wonders pledge!!
Teeterville also participated in the Big Crunch and has a very active Healthy School Committee! Keep it up Teeterville!
Thompson Creek Elementary School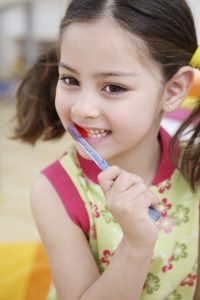 The grade 2/3 class at Thompson Creek excitedly welcomed a tooth brushing program. The children received a lesson on how to brush their teeth and the importance of taking care of their teeth. The class was supplied with toothbrushes, fluoride toothpaste and a toothbrush holder which will be kept at the school. The children will brush once a day at school. Overall oral health is important in a child's development with speech, nutrition, learning and self-confidence. Watch for bright smiles on the streets of Dunnville from those Thompson Creek Timberwolves!