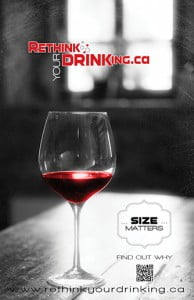 Rethink Your Drinking is an awareness campaign that encourages moderation or low-risk drinking to support healthy lifestyle choices and reduce short and long-term risks associated with alcohol consumption.
When it comes to alcohol, Size Matters. Drinking is a personal choice. If you choose to drink, the Haldimand-Norfolk Health Unit is encouraging you to rethink your drinking and stay within limits proposed by Canada's Low-Risk Alcohol Drinking Guidelines.
When it comes to drinking alcohol, time matters. Slowing down your pace, and alternating between alcoholic & non-alcoholic drinks gives your body a chance to break down alcohol, stay hydrated, and avoid a hangover.
When it comes to alcohol, zero matters. If a pregnant woman drinks alcohol, it will reach her unborn baby. A woman's use of alcohol while pregnant may affect the developing baby and cause a range of mental and physical difficulties. During pregnancy there is no safe time to drink alcohol, and no safe type of alcohol.