Taking Care of Tiny Teeth
Taking Care of Tiny Teeth
Prevent Early Childhood Tooth Decay
Newborn to 6 years
Parents play an important role in caring for their child's teeth.
Research has shown that tooth decay rates among children two to four years of age are increasing. Establishing regular mouth and teeth cleaning habits right from birth will help greatly reduce the risk of decay. It will also make toothbrushing and dentist visits easier later on because your child will be used to you working in his or her mouth.
0-2 years of age
Baby teeth play an important role in a child's development.  They help them eat, speak and assist the permanent teeth to come in straight.
Oral health tips to prevent tooth decay in baby teeth:
Wipe your baby's gums with a clean damp cloth after feedings.
Brush your baby's teeth twice a day as soon as the first tooth appears.

Use a grain of rice-sized amount of fluoride toothpaste if recommended by a dental professional, otherwise, just use water.

Provide healthy foods and limit sugary snacks.
Babies do not need juice; choose water instead. Transition your child to an open cup by one year of age and avoid using sippy cups.

If your toddler is carrying around or going to bed with a sippy cup, only fill it with plain water.

Schedule your baby's first dental visit by age one.
Establishing good hygiene habits early helps reduce early childhood tooth decay
3-5 years of age
Young children cannot brush their teeth properly, so you will have to do it for them.
At three years of age, start using a pea-sized amount of fluoride toothpaste when brushing your child's teeth.
Brush their teeth twice a day, especially before bedtime.
Be sure to brush the hard-to-reach molars at the back of their mouth.
Be sure to rinse toothpaste from your child's mouth and do not let them eat or swallow toothpaste.
Start flossing your child's teeth at three years of age.
Offer your child water only between meals and snacks.
Limit the amount of candies, sweets, fruit juice and other drinks with sugar your child consumes.

When your child does have candies or other sweet or sticky food, brush their teeth as soon as possible.
Early Childhood Tooth Decay is Painful
Tooth pain affects:
Eating
Sleeping
Learning
Behaviour
Pulling baby teeth because of decay may cause problems with:
Chewing food
Speaking
Crooked adult teeth
Self-esteem
General health
Teeth Growth Chart
This chart is only a guideline. Children grow at their own pace.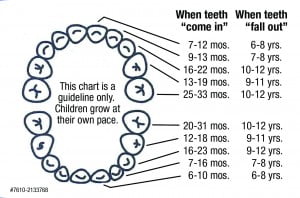 Do you have questions about how to care for your child's mouth and teeth?
Contact the Oral Health Team at the Haldimand-Norfolk Health Unit at Ext. 3293 or by emailing [email protected]