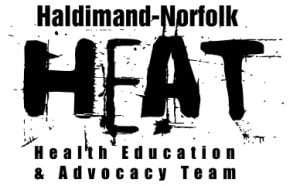 The Haldimand-Norfolk Health Unit's Health Education and Advocacy Team (HEAT) is a youth led volunteer group that takes action against the tobacco industry. HEAT aims to expose the truth about the manipulative tactics of the tobacco industry in hopes of preventing their peers from starting to use tobacco.
Get Involved:
If you would like more information about HEAT or would like to apply to become a volunteer, please contact:
519-426-6170 Ext. 3201
Current Campaigns:
Smoke-Free Movies
The more kids and teens see smoking in movies, the more likely they are to start. Kids and teens continue to be exposed to a lot of smoking in youth-rated (G, PG, 14A) movies today.
That is why HEAT is joining the fight for change. HEAT encourages and supports a rating change in Ontario that would prevent tobacco from being shown in future movies rated for kids and teens.
Take Action by showing your support:
Learn more about Smoke-Free Movies.
Freeze the Industry – Plain & Standardized Packaging
Freeze the Industry (FTI) is a youth-led provincial campaign that is fighting to put a freeze on tobacco industry products.
Currently, FTI is advocating for plain & standardized packaging (PSP). PSP would prohibit brand colours, logos and graphics on tobacco packages.  Without branding, the health warning is the only message.
Learn more about Freeze The Industry.