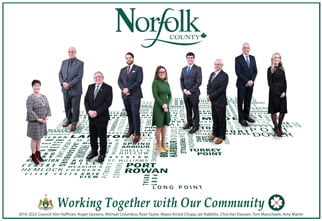 Board of Health 2019 - Councillor Kim Huffman, Councillor Roger Geysens, Councillor Michael J. Columbus, Councillor Ryan Taylor, Mayor Kristal Chopp, Councillor Ian Rabbitts, Councillor Chris Van Paassen, Councillor Tom Masschaele, Councillor Amy Martin
The Board of Health is governed by the Health Protection and Promotion Act. The Ontario Public Health Standards (OPHS) and Protocols published by the Minister of Health and Long-Term Care establish the minimum requirements for fundamental public health programs and services.
The Board of Health consists of the Mayor and eight Councillors elected to Norfolk County Council. The Mayor is also the Chair for the Board of Health.
To read the minutes from the Board of Health meetings, please visit the Board of Health area of the Norfolk County site.