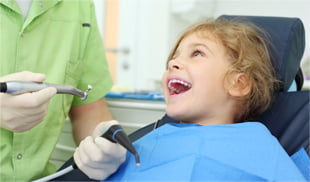 Download The Dental Services Brochure
School Screenings
The Health Unit's dental staff delivers the dental screening program to students in selected grades in all elementary schools in Haldimand and Norfolk Counties in the school year. It consists of a brief visual assessment of the child's dental condition. A qualified dental team consisting of a dental hygienist and a preventive dental assistant conducts the screening. Parents will be informed of dental screenings through forms delivered to each household prior to school screenings. These forms also allow parents to request screenings for children outside of the specified screening grades to be screened.
The dental team follows strict infection control procedures. Sterilized mouth mirrors are changed for each child. Through the screening process, information and dental data are collected and reported to the Ministry of Health. Children who are in immediate need of dental treatment are identified, and a parent notification form (PNF) is mailed home to the parent or guardian advising them of their child's need for dental treatment.
There are two programs promoted by the Health Unit which allow families with who have financial hardship and have no access dental treatment for their children.

Care for Emergency & Essential Services
Healthy Smiles Ontario can provide emergency dental care for low-income children age 17 and under the Emergency & Essential Services Stream. If your child is in dental pain or has cavities which you can easily see in their mouth, please call the Haldimand-Norfolk Health to book a dental screening and apply to have your child placed on the EESS program.

Healthy Smiles Ontario (HSO)
Healthy Smiles Ontario can offer:Regular visits to a dentist or dental hygienist
Cleanings
Fillings
X-rays
Scaling
treatment for urgent or emergency oral health issues
Other treatment Services
* Orthodontics (e.g., braces) and cosmetic dentistry (e.g., teeth whitening) are not covered by HSO.Your child may be able to get HSO coverage if:
He or she is 17 or under

He or she is a resident of Ontario
If your family receives Ontario Child Tax Benefit
To see if your family qualifies call your local Health Unit 519-426-6170 Ext. 3293 or go online ontario.ca/healthysmiles* if your child has OW, ODSP, ACSD or temporary care Assistance coverage they would have been automatically enrolled  in HSO
Simcoe and Dunnville Preventive Dental Clinic
Get free dental care for your child! At our Preventive Dental Clinics, we offer free dental service for eligible children up to and including age 17. Our services can help prevent cavities. We can:
Clean teeth
Apply Fluoride
Coat teeth with sealants
Show you how to brush
Contact Information
To make an appointment or for more information contact the Haldimand-Norfolk Health Unit at 519-426-6170 Ext. 3293 for Norfolk or 905-318-6623 Ext. 3293 for Haldimand.
Frogmore Clinic 2018 Immunization and Dental Clinic
Location: Houghton Public School
Help Centre Phone Number: 519-875-4601.
January 16, 5-7 p.m.
February 20, 5-7 p.m.
March 26, 5-7 p.m. *Dental Only*
April 16, 5-7 p.m.
May 21, 6-8 p.m.
June 18, 6-8 p.m.
September 17, 6-8 p.m.
October 15, 5-7 p.m.
November 19, 5-7 p.m.
December 10, 5-7 p.m. *Dental Only*