County encouraging active transportation with bike racks
News & Events
County encouraging active transportation with bike racks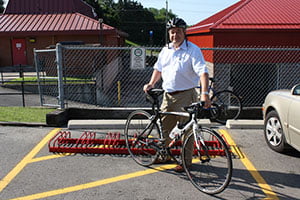 SIMCOE, JULY 26, 2010 – The Haldimand-Norfolk Health Unit and Norfolk County are making it easier for citizens to make the healthy choice when it comes to transportation. Over the past few weeks, bike racks have been installed in visible, convenient places at a number of municipal buildings throughout the county.
"We are always encouraging people of all ages to be more active," said Michele Crowley, Physical Activity Promoter at the Haldimand-Norfolk Health Unit. "Cycling to work, school or any other destination is a great way to build activity into your daily routine."
With rising gas prices and a lack of local public transportation, cycling is an excellent alternative for getting from place to place. However, unlike cars that you just lock up and walk away from, riders need a secure place to park and lock their bikes.
"Until recently, the bike rack at the Health Unit was tucked away at the back of the building. Nobody even knew it was there," noted Crowley. "Our bike rack now has a prominent place in the front of our building at 12 Gilbertson Drive."
The rack has taken over one space traditionally used for parked cars. A sign has been posted at the parking spot which reads: Pedal Parking Only – Thank you for making a healthy choice.
Other bike rack locations across Norfolk County include: Port Dover arena, Waterford, Delhi and Simcoe public library branches, Simcoe Lions Park, County Administration Building, Simcoe Kinsmen Splash Pad, Kinsmen Play Park, Simcoe Recreation Centre, Delhi Kinsmen Pool, and the Port Rowan Tourist Information Booth.
Norfolk Pathways for People, a citizen group that promotes pathways for walking and cycling in Norfolk County, applauds the County for making bicycle parking available.
"Providing bike racks is a great way to show community support for cycling as a mode of active transportation," said Joyce Flexman, Chair of Pathways for People. "Having a safe place to park bikes encourages physical activity and promotes health for citizens and the environment."
The Health Unit wants to remind cyclists that, when biking, it is important to consider the rules of the road, for your safety and the safety of others.
Helmets are mandatory for children and youth under the age of 18. The Health Unit recommends all riders wear one.
Cyclists should travel in the same direction as cars.
Cyclists should use proper hand signals to indicate changes in direction to drivers.
Cyclists should wear reflective clothing and have reflectors on their bikes.
Cyclists should have bells on their bikes to signal their approach to pedestrians on trails.
Drivers should be aware of cyclists and make an effort to share the road.
-30-
Media contact:
Michele Crowley
Health Promoter
Population Health Team
Haldimand-Norfolk Health Unit
Ext. 3239 at either 519-426-6170 or 905-318-6623
[email protected]