Former outlaw biker helps tackle youth drug misuse
News & Events
Former outlaw biker helps tackle youth drug misuse
"The survey results are welcome news," said the Health Unit's Lina Hassen, Health Promoter with the Substance Misuse Prevention Program, "because our substance misuse problem locally is higher than the provincial average."
Osborne, who did a series of interactive talks at 10 high schools in Haldimand and Norfolk counties in November, was a heroin addict at age 15, and a former motorcycle gang member who spent 23 years in federal penitentiaries before turning his life around. He has a BA in psychology from Queen's University and an Addiction Care Worker Diploma from McMaster University and is founding director of Truth for Teens, a not-for-profit organization that educates youth about drugs, gangs and crime.
Osborne's visit was sponsored by The Haldimand-Norfolk Drug Awareness Committee comprised of various community partners with a vested interest in substance abuse prevention, including the Health Unit, Ontario Ministry of Transportation, Ontario Provincial Police, Mothers Against Drunk Driving and the Centre for Addiction and Mental Health. The talks were also supported by Crime Stoppers of Haldimand, Norfolk & Tillsonburg, the Suicide Prevention Network of Haldimand-Norfolk and the Port Dover Lions Club.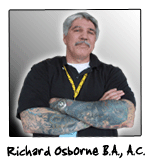 Osborne spoke primarily to Grade 9 students, but sometimes to assemblies of students ranging from Grades 7 to 10, urging them to learn from his own early, destructive path. A total of 1,185 surveys were completed and well over 95% of the students indicated they had learned about the serious consequences of substance misuse, Hassen said. "The students also learned that no matter how bad your life may be, it's always possible to turn it around."
Hassen said the Health Unit is concerned that substance misuse is high in Haldimand and Norfolk, a fact confirmed in a Health Unit health status report issued earlier this year.
The report showed, for example, that alcohol misuse here is higher than the provincial average and dramatically higher among males in particular. Approximately 67% of Haldimand and Norfolk males, age 20 years and older, were at high risk for alcohol-related problems, compared to 49% for the province as a whole.
Substance misuse often starts at an early age, Hassen pointed out. A student health survey done in 2003 for Haldimand, Norfolk and Brant counties revealed the following:
38% of students in Grades 5 and 7 drank alcohol in the past 12 months.
41% of students in Grades 9 and 11 drank alcohol in the past four weeks.
40% of alcohol users in Grade 11 reported binge drinking at least once in the past four weeks.
The proportion of students using cannabis at least once doubled between Grade 9 (26%) and Grade 11 (52%).
13% of Grade 7, 9 and 11 students had used cocaine, hallucinogens or a designer drug in their lifetime.
"Targeting Grade 9 students with positive messaging around decision-making and resistance of negative peer influences is crucial," Hassen pointed out, "as the Grade 9 students had the most significant statistical increase in substance misuse. The percentage of students using specific substances is shown to double once those students are exposed to the increased pressures faced in secondary school."
-30-
Media contact:
Lina Hassen, Health Promoter, Substance Misuse Prevention Program,
Haldimand-Norfolk Health Unit,
Phone: 519-426-6170 Ext. 3274 or 519-318-6623 Ext. 3274. Email: [email protected]