Haldimand Norfolk Health Unit designated Baby-Friendly
News
Haldimand Norfolk Health Unit designated Baby-Friendly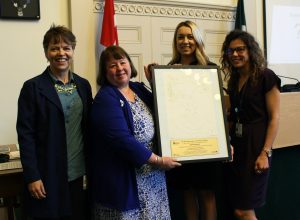 June 14 – The Haldimand-Norfolk Health Unit has been designated Baby-Friendly by the Breastfeeding Committee for Canada.
The designation is awarded to community health services and hospitals that protect, promote and support breastfeeding by implementing the WHO/UNICEF Baby-Friendly Initiative. 
The award recognizes the work Health Unit staff do to help women successfully initiate and continue breastfeeding.
Health Unit staff promote and support breastfeeding through ongoing staff and public education, community collaborations and infant feeding surveillance, among other initiatives. They support all families regardless of how they feed their baby.
"The Health Unit staff have worked tirelessly to secure this recognition," says Shanker Nesathurai, Haldimand-Norfolk's Medical Officer of Health. "The designation demonstrates our commitment to providing programs and services that support all families in our community, and to helping mothers give their babies the best possible start in life."
Staff will officially receive the designation at a meeting of the Board of Health on June 18.
For more information about services provided by the Haldimand-Norfolk Health Unit, please call 519-426-6170 or 905-318-6623.