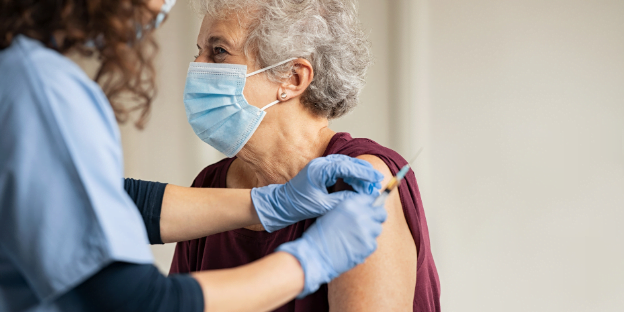 Getting vaccinated is one of the best ways to protect yourself from the COVID-19 virus. It can help prevent serious illness in people with other health conditions.
Vaccines work with your body to fight the virus if you are exposed. This can reduce your risk of developing COVID-19.
Vaccines have saved more lives in Canada than any other medical intervention in the past 50 years. Vaccines protect people against very harmful and serious diseases like measles, polio, meningococcal disease, tetanus, diphtheria, and more. 
How vaccines work

Learn about the COVID-19 vaccine
How will the COVID-19 vaccine protect me?
Vaccines reduce risks of getting a disease by working with your body's natural defenses to build protection and fight the virus if you are exposed. This protection can reduce your risk of developing COVID-19 and make your symptoms milder if you do get it. The vaccine does not contain the virus and so it cannot give you COVID-19.
I have received the COVID-19 vaccine. Can I still get the COVID-19 virus?
There is a small chance that you may still get COVID-19 after being vaccinated for the virus. For example, it typically takes a few weeks after vaccination for the body to build protection (immunity) against the virus that causes COVID-19. That means it is possible a person could still get COVID-19 just after vaccination. This is because the vaccine has not had enough time to provide protection.
I have received the COVID-19 vaccine. Why should I still practice public health measures? (e.g. wear a mask, avoid gatherings, physically distance, etc.)
Due to limited data, the COVID-19 vaccine has not shown to reduce transmission yet.  While we do know that COVID-19 vaccines can reduce serious illnesses, more data is required to determine the vaccine's impact on reducing transmission.

Although the vaccine will protect those who receive it from getting sick, it is possible that someone who has received the vaccine to still carry the virus. This means these individuals can still pass on the virus to others but at a lower rate. For this reason, it is important to protect the ones you love and help stop the spread, by continuing to follow public health measures, which includes physical distancing, wearing a mask, and staying home if you are sick.

Health care and other staff must still wear personal protective equipment (PPE) even after they have taken the vaccine.
If I get vaccinated, will I be immune to COVID-19 for my entire lifetime?
At this time, the duration of protection from the vaccines remains unknown, and further doses may be necessary. The duration of immunity from contracting the infection also remains unknown. Ongoing monitoring of the COVID-19 vaccines and their effects on long-term immunity continues.

Types of vaccines available
What types of vaccines have been approved for COVID-19 in Canada?
At this time, Health Canada has approved two types of vaccines, which are a type of mRNA vaccine. To learn more about how each of the vaccine works, click on the links below.

Both vaccines require two doses.
The Pfizer-BioNTech doses are given at least 21 days apart for people 16 years of age and older, including seniors.
The Moderna doses are given at least 28 days apart for people 18 years of age and older, including seniors.
Note: Due to current limited supplies of COVID-19 vaccine, in some situations second doses may be administered up to 42 days after the first dose.

After completing the vaccine and receiving both doses, it may take another one to two weeks to get the most protection against COVID-19.

Ontario's vaccine rollout plan
When can I get the COVID-19 vaccine?
Vaccinations in Haldimand and Norfolk counties for COVID-19 will take place based on Ontario's COVID-19 vaccination plan, which will take place in three phases. As the supply of vaccines is currently limited, the province of Ontario has identified key populations who will receive the vaccine first. This may include individuals who are most at risk, such as the following individuals:
Older adults
People who live in congregate settings
Frontline essential workers (i.e. first responders, teachers, food processing industry)
People with high-risk chronic conditions and their caregivers
Other populations and communities who are at greater risk such as individuals in homeless shelter, correctional facilities, long-term care homes, and migrant workers.
In Phase 3 of the vaccination plan, vaccines will be available widely across Ontario for anyone who wants to get vaccinated. Please continue to follow our website and social media for further updates as more information becomes available. As more vaccines are approved by Health Canada, the timelines to receive the COVID-19 vaccine may change so you can get the vaccine sooner. However, this will depend on the manufacturer's ability to increase production to develop the vaccine.
I am a healthcare worker. How can I get vaccinated for COVID-19?
If you are a frontline worker your employer will contact you using a selection process to determine if you are eligible to receive the COVID-19 vaccine. Your employer will provide you with the necessary information and instructions on how to make an appointment to receive the vaccine.
Is there a waitlist for COVID-19 vaccinations?
No. Public Health does not keep a waitlist for COVID-19 vaccinations. As vaccines become widely available, we will share the details widely with our communities.

For more information about the provincial vaccine roll-out plan, visit: COVID-19 Vaccines for Ontario

Vaccine safety
Is the vaccine safe?
The Canadian government has very high standards for vaccine safety and only approves vaccines that have undergone several tests. After approval, the safety of the vaccine will be monitored for side effects on an on-going basis by Health Canada. It usually takes many years to make a new vaccine. However, will the information available the COVID-19 vaccine was developed quickly for the following reasons.
We have ten years of previous research on other strains of coronavirus prior to COVID-19.
Scientists, health professionals, researchers, industry, and governments from the around the world are working together.
Advances in science and technology are occurring faster.
The government provided lots of funding to scientists to work on the vaccine.
Volunteers are readily available to test the vaccine for clinical trials.
Rapid set-up of clinical trials.
Less delays in approval process of vaccine.
Who should not take the COVID-19 vaccine?
If you are someone who has an allergy to parts of the vaccine.
Have a severe or unusual side effect after the first dose of the vaccine.
Are under the age of 16 years.
If you have a fever, sick with COVID-19 symptoms, or have received a vaccine in the past 14 days.
If you are trying to get pregnant; please wait 28 days after you have received both doses of the vaccine.
If you are on blood thinner medication. However, the use of a smaller needle, and longer application of pressure after getting the vaccine could reduce bruising.
Talk to your health care provider, if you;
Have a weak immune system (because of a medicine you take or a health problem).
Have an autoimmune disorder (like rheumatoid arthritis or lupus).
Have a bleeding disorder.
Are pregnant or breastfeeding.
For more information about vaccine safety, visit:
What are the potential side effects?
Individuals may experience side effects from the vaccine. These symptoms are mild to moderate and last for only a few days. Some of the symptoms are part of the body's response to developing immunity. Here are some common side effects reported for these vaccines listed below.
Pfizer-BioNTech
Moderna
Common side effects (may affect up to 1 in 10 people)

Pain at injection site
Fatigue
Headache
Muscle pain
Chills
Joint pain
Fever
Diarrhea

Pain at injection site
Fatigue
Headache
Myalgia
Chills
Nausea / Vomiting
Axillary swelling and tenderness (enlarged lymph nodes)

Uncommon side effects (may affect up to 1 in 100 people)

Axillary swelling and tenderness (enlarged lymph nodes)
In very rare situations, some people may experience serious symptoms or an allergic reaction. If this occurs, seek medical attention right away – call 9-1-1 or go to the nearest hospital.

Serious symptoms include:
Hives (bumps on the skin that are often very itchy)
Swelling of the face, tongue or throat
Difficulty breathing
Very pale colour and serious drowsiness
High fever (over 40°C)
Convulsions or seizures
Other serious symptoms (e.g., "pins and needles" or numbness).
If you get a reaction to the vaccine, contact your health care provider who will report the side effects directly to the health unit. The health unit will keep track of the reported side effects and report it to higher public health authorities to make sure the vaccine continues to be safe.

Myths about vaccination
Were the safety standards lowered for the COVID-19 vaccine?
No, the safety standards for the COVID-19 vaccine were not lowered to manufacture the vaccine. The vaccine was developed faster because the government made it a priority to get the vaccine approved quickly with the same safety standards and clinical trials.

Messenger RNA vaccines—also called mRNA vaccines—are some of the first COVID-19 vaccines authorized for use in Canada.

mRNA technology has been studied for more than 10 years, most often in cancer research and treatment as well as in the development of new vaccines against such infections as pandemic influenza and rabies.

mRNA vaccines teach our cells how to make a protein—or even just a piece of a protein—that triggers an immune response inside our bodies. That immune response, which produces antibodies, is what protects us from getting infected if the real virus enters our bodies.

Shortly after COVID-19 was identified, scientists were able to map the genes that make up the virus. Once the structure of the genes was known, especially of the spike protein that allows that virus to fuse with and enter our cells, scientists were able to quickly create the vaccine and start the clinical trials.

The vaccine is the result of the combination of the mRNA technology and the genetic mapping of COVID-19.
Do vaccines contain toxins?
Vaccines contain antigens, which are small amounts or parts of the disease germ (either a virus, bacteria, or toxoid). The germs can either be dead (inactive) or a weakened version of that germ (attenuated). Weakened live vaccines do not cause serious illness.

Vaccines also contain ingredients to prevent contamination (to keep the vaccine sterile and clean). These ingredients are present in very small amounts and do not pose a health risk.

Vaccines may also contain adjuvants to boost the immune response to a vaccine. These ingredients are present in very small amounts and do not pose a health risk.
Do vaccines cause autism spectrum disorder (ASD)? 
No. There is a myth that vaccination can cause Autism spectrum disorder (ASD). This myth originated from a 1998 case series published by UK physician, Andrew Wakefield. The study suggested that the measles, mumps, rubella (MMR) vaccine was responsible for Autism in British children. This study was later found to be fraudulent. Scientific data has shown that there is no relation between vaccination and ASD. For more information, visit:
https://immunize.ca/resources/89
http://www.health.gov.on.ca/en/pro/programs/immunization/myths.aspx