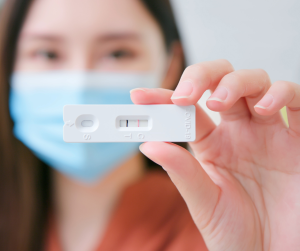 If you are eligible for molecular testing you are encouraged to get tested using a molecular test. Those who are not eligible for molecular testing may use rapid antigen testing.
If you have COVID-19 symptoms OR a positive COVID-19 test (PCR, rapid molecular or rapid antigen test), please isolate until symptoms have been improving for 24 hours (or 48 hours if gastrointestinal symptoms) and no fever is present.
Additionally, for a total of 10 days after the date of specimen collection or symptom onset (whichever is earlier/applicable):
Continue to wear a well-fitted mask in all public settings (including schools and childcare, unless under 2 years old)
Avoid non-essential activities where mask removal is necessary (e.g., dining out, playing a wind instrument, high-contact sports where masks cannot be safely worn)
Avoid visiting anyone who is immunocompromised or at higher risk of illness (e.g., seniors)
Avoid non-essential visits to highest risk settings such as hospitals and long-term care homes
If you test positive, however, and do not have COVID-19 symptoms, you do not need to self-isolate. If symptoms develop, self-isolate immediately and follow the above guidelines.
If your symptoms become unmanageable, seek medical attention.
You can also take this self-assessment to find out what to do if you are feeling sick or have been in contact with a positive case.
Last updated 05/30/2023