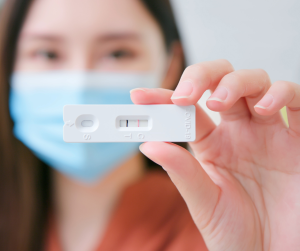 With lower rates of COVID-19, high vaccination rates, and demand for rapid antigen tests (RAT) trending downwards across Ontario, the Province of Ontario has announced the discontinuation of the Rapid Antigen Test Public Distribution Program. 
If you are eligible for molecular testing you are encouraged to get tested using a molecular test. Those who are not eligible for molecular testing may use rapid antigen testing. 
HNHU will be distributing RAT kits at the Health Unit office locations during office hours Monday – Friday 8:30 AM – 4:30 PM:
Simcoe: 12 Gilbertson Drive, Simcoe, N3Y 4N5

Caledonia: 100 Haddington Street, Caledonia, N3W 2N4
Dunnville: 117 Forest Street East, Dunnville, N1A 1B9

 
If you have COVID-19 symptoms OR a positive COVID-19 test (PCR, rapid molecular or rapid antigen test), please isolate until symptoms have been improving for 24 hours (or 48 hours if gastrointestinal symptoms) and no fever is present. 
Additionally, for a total of 10 days after the date of specimen collection or symptom onset (whichever is earlier/applicable) follow these additional precautions.
If you test positive, however, and do not have COVID-19 symptoms, you do not need to self-isolate. If symptoms develop, self-isolate immediately and follow the above guidelines.
If your symptoms become unmanageable, seek medical attention. 
You can also take this self-assessment to find out what to do if you are feeling sick or have been in contact with a positive case. 
How to complete rapid antigen testing
Last updated 09/25/2023