Food Insecurity in Haldimand and Norfolk Counties
Food Insecurity in Haldimand and Norfolk Counties
Food insecurity occurs when a household does not have enough money to buy food. Continue reading to learn more about food insecurity in our area and why No Money for Food is … Cent$less.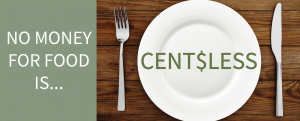 Reproduced with permission of Simcoe Muskoka District Health Unit
What is the problem?
About 1 in 9 households in Haldimand and Norfolk counties are food insecure1
Only 1 in 4 people experiencing food insecurity access a food bank2
Many household incomes are not enough to cover the cost of living

In Ontario, almost 60% of food insecure households received employment income3
2019 Nutritious Food Basket data shows that a single person receiving Ontario Works would not have enough money to pay for food and rent each month
Why does it matter?
Food insecurity negatively impacts physical and mental health
Food insecurity takes a significant toll on our healthcare budget, with severely food insecure adults spending up to 121% more healthcare dollars than food secure adults4
What can be done?
Be aware
Learn more about why No Money for Food is…Cent$less
Spread the word
Talk about food insecurity with family and friends
Share credible messages about food insecurity and poverty on social media
Advocate and participate in elections
Advocate for income responses to household food insecurity, such as basic income and increased social assistance rates
Vote – your voice matters!
Nutritious Food Basket
Every year Health Units across Ontario use the Nutritious Food Basket costing tool to determine the cost of healthy eating for their region.
In May 2019, the monthly cost of feeding a family of four in Haldimand and Norfolk Counties was $912.24.
Food banks and other emergency food resources
Click here for a list of emergency and low cost food programs in Haldimand and Norfolk Counties.
References
Canadian Community Health Survey 2013-2014. Statistics Canada, Share File, Knowledge Management and Reporting Branch, Ontario MOHLTC.
Loopstra, R. & Tarasuk, V. (2012). The Relationship between Food Banks and Household Food Insecurity among Low-Income Toronto Families. Can Pub Policy. 38, 497-514.
Tarasuk, V, Mitchell, A, Dachner, N. (2016). Household food insecurity in Canada, 2014.Toronto: Research to identify policy options to reduce food insecurity (PROOF).Retrieved from http://proof.utoronto.ca/
Tarasuk, V., Cheng, J., de Oliveira, C., Dachner, N., Gundersen, C., & Kurdyak, P. (2015). Association between household food insecurity and annual health care costs. Can Med Assoc J. 187(14), E429-E436. Factsheet retrieved from http://proof.utoronto.ca/wp-content/uploads/2016/06/health-impact-factsheet.pdf