Personal Service Settings
Personal Service Settings

Under the Health Protection and Promotion Act, R.R.O. 1990, Ontario Regulation 136/18: Personal Service Settings, the Haldimand-Norfolk Health Unit inspects all personal service settings in Haldimand and Norfolk counties.
All of the inspection reports for personal service settings including barber shops/hairdressers, nail and aesthetic salons, hair removal salons, tattoo and body piercing studios, are available on our disclosure website, Inspect Our Community

What is a personal service setting?
A personal service setting is defined in the Health Protection and Promotion Act, R.S.O. 1990, as premises at which personal services are offered where there is a risk of exposure to blood or body fluids.
This includes
Hairdressing and barbering
Tattooing
Body Piercing
Nail services
Electrolysis
Other aesthetic services
What is the role of a Public Health Inspector?
Public Health Inspectors (PHIs) visit personal service setting to conduct routine inspections, complaint investigations, and where required re-inspections. During inspections and/or investigations, PHIs ensure that premise owners/operators are following the requirements outlined in Ontario Regulation 136/18: Personal Service Settings. If there are infractions, education is provided to owners/operators to achieve compliance. Should infractions continue or be an immediate risk to the safety of customers and/or workers, legal action may occur (i.e., tickets and/or closure orders).
At the end of each inspection, a written report is provided to the operator and is publicly posted on the Inspect Our Community disclosure website, under "Infection Control".
Choose your personal service setting with care
Choose an approved business that receives regular inspections – you can ask to see their latest inspection report or contact the Haldimand-Norfolk Health Unit for more information about the business.
Visit beforehand to make sure the premise and equipment is maintained in a clean and sanitary condition. Ask how often they disinfect or sterilize their equipment.
Check online reviews and talk to your friends about their experiences.  
Things to look for at personal service settings
When you are getting a personal service, make sure:
The person helping you washes their hands and/or wears gloves before handling sterile equipment.  
"Invasive" equipment such as needles and ink caps are in sealed, sterilized (marked) packaging and they are opened and put together in front of you.
Equipment that cannot be properly sterilized (tattoo machine, cords, etc.) is covered with a disposable covering.
Single-use items are disposed of properly after they are used.
You receive verbal and written aftercare instructions to prevent infection.
Look for the "Inspect Our Community" inspection sign.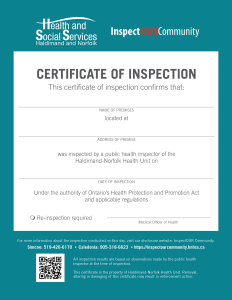 For Operators of Personal Service Settings
Personal Service Settings for Operators: Disclosure Guide
Operators and staff of personal service settings are encouraged to review the Guide to Infection Prevention and Control in Personal Service Settings from Public Health Ontario to learn more about infection prevention and control practices that reduce the risk of transmission of infections in personal service settings.