On this page
The Haldimand-Norfolk Health Unit enforces the Smoke-Free Ontario Act  (SFOA) which was introduced on May 31, 2006, as part of a broad strategy to reduce tobacco use and reduce second hand exposure to tobacco smoke in Ontario.
The SFOA regulates the smoking and vaping of tobacco, electronic cigarettes, and cannabis to protect the people of Ontario, especially youth, from the harms of tobacco, the potential harms of vapour products, and the harms of second-hand cannabis smoke.
October 17, 2018,  the SFOA was expanded to include the regulation of the sale, supply, promotion and use of e-cigarettes, as well as cannabis prohibitions.
The SFOA also regulates the sale and supply of tobacco products and vapour products. Under the SFOA it is prohibited to sell or supply tobacco, vaping devices or e-juice to any person under the age of 19.
File a complaint
For more information on the SFOA or to file a complaint, please leave a detailed message for a Tobacco Enforcement Officer at 519-426-6170 or 905-318-6623 Ext. 3477. To email a request for information or file a complaint, please email [email protected]  
No Smoking Signs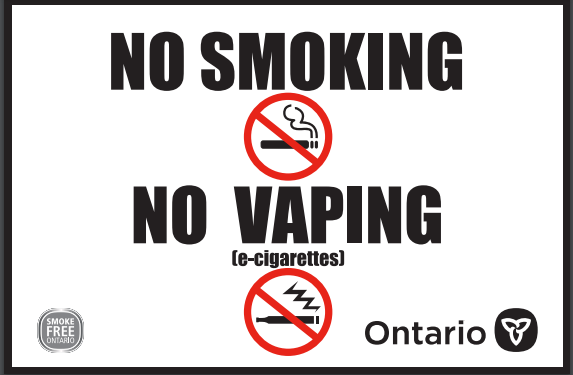 No smoking and no vaping signs are required on entrances/exits and washrooms of all workplaces and public places. Tobacco, e-cigarette and e-juice vendors also require signs regarding the sale of tobacco, e-cigarettes and e-juice. No smoking and vendor signs are available from the Health Unit for free. To get no smoking and no vaping signage please contact a Tobacco Enforcement Officer at 519-426-6170 Ext. 3477 
Norfolk County Smoke-Free Outdoor Spaces By-Law
The by-law prohibits smoking or vaping around municipal buildings and on recreational properties.
Smoking includes the carrying of a lighted cigar or cigarette, or pipe, and is not limited to tobacco but also includes shisha, cannabis, vaping or any other lighted material.
As of May 1st, 2018, the Norfolk County Smoke-Free Outdoor Spaces and Recreational Properties By-law 2018-24 will be in effect. Smoking and vaping is prohibited: not allowed
Anywhere on recreational properties owned or operated by Norfolk County, which includes, but is not limited to: Arenas, beaches, recreational centres, playgrounds, parks, sports and playing fields, skateboard parks, leash-free dog parks, pools, trails or paths, and stadiums.
Within 9 metres of any entrance or exit of a municipally owned, operated, or leased building, which includes, but is not limited to: County offices, libraries, and museums.
For more information or to file a complaint about the by-law 2018-24, follow this link.
To file a complaint please contact Norfolk County By-law Department at 519-426-4377
To speak to a Tobacco Enforcement Officer, call 519-426-6170 Ext. 3477.