News & Events
Hydrogen sulphide update
Norfolk County, ON – September 5, 2017 – Over Labour Day weekend, officials in Norfolk County continued to monitor and respond to the area affected by the leaks of hydrogen sulphide (H2S) on 10th Concession Road west of Silver Hill.
The Ontario Ministry of Natural Resources and Forestry (MNRF) communicated on September 3, 2017, that well T0008275 has been brought into compliance. Officials monitored readings near the well for 48 hours after compliance. Today, the Medical Officer of Health reviewed the readings in a 400-meter radius around T0008275 and will allow three residences to return home.
Barricades have been moved to the perimeter of the exclusion zone of the other well. That well area continues to release hydrogen sulphide gas in high concentrations. Monitoring is expected to continue until the well is properly abandoned by MNRF. Norfolk County has revised the exclusion zone in the area to prohibit anyone from entering on foot or by vehicle or vessel. See Map below.
Norfolk County Mayor Charlie Luke has communicated the municipality's concerns about gas wells in the area to the Minister of Natural Resources and Forestry Kathryn McGarry, Premier Kathleen Wynne, and MPP Toby Barrett.
Citizens who believe a well is leaking H2S should contact the Spills Action Centre of the Ontario Ministry of Environment and Climate Change by calling 1-800-268-6060 (toll-free) or 416-325-3000 immediately.
For more information about hydrogen sulphide, visit the Haldimand & Norfolk Health Unit website at hnhu.org.
Updates on the situation will be posted at norfolkcounty.ca/emergency, announced via 98.9 FM, and via media releases and social media.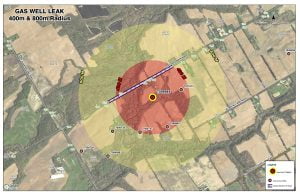 Media Contacts:
Marlene Miranda, General Manager, Health & Social Services
519-426-6170 ext 3120
David Cribbs, County Manager
519-426-5870 ext 1225
Mayor Charlie Luke
519-426-5870 ext 1220
Terry Dicks
Fire Chief
519-426-4115 ext. 2400