Haldimand-Norfolk Health Unit thanks community partners as rollout continues
News
Haldimand-Norfolk Health Unit thanks community partners as rollout continues
On Thursday, April 1, 2021, Members of the H-N COVID-19 Vaccine Task Force, Board of Health Chair/Norfolk County Mayor Kristal Chopp and Haldimand County Mayor Ken Hewitt attended the Cayuga Memorial Arena clinic to thank staff and community partners for the extraordinary efforts and teamwork demonstrated to date.
Members of the Task Force, Board Chair Chopp and Mayor Hewitt were on site while the 20,000th dose of COVID-19 vaccine was being administered to a resident.
The COVID-19 Vaccine Task Force – a joint effort of the Haldimand-Norfolk Health Unit, Haldimand & Norfolk Counties (including Paramedic & Fire services), Norfolk General Hospital and West Haldimand General Hospital, Haldimand War Memorial Hospital and both counties' Family Health Teams – have been working collaboratively since late last year to coordinate a safe and efficient rollout.
Currently, individuals 70 and above are being contacted to book vaccine appointments, as are individuals with highest-risk health conditions as defined by the Ministry of Health. The Task Force will continue to administer vaccines to eligible groups in alignment with the Province's vaccination framework.
Quotes:
"I am incredibly proud of the hard work, dedication and collaboration demonstrated by our Vaccine Task Force and community partners," said Board of Health Chair Kristal Chopp. "A lot of time has been spent developing a system that works smoothly and efficiently. If it weren't for the staff, volunteers and partners involved, we would not be where we are today," Chopp added.
"The feedback we're receiving on the clinics is extremely positive. Haldimand and Norfolk counties are very fortunate to have such a dedicated team of people leading our vaccine rollout efforts and making things work logistically. This is a proud moment for H-N, and I cannot thank everyone enough," stated Haldimand County Mayor Ken Hewitt.
"The Health Unit will continue working diligently to manage the pandemic's local impact and mitigate negative effects on the broader community of approximately 110,000 residents who live within the health district. Support from healthcare partners has been instrumental in moving the rollout forward in accordance with Provincial timelines," stated Dr. Shanker Nesathurai, Medical Officer of Health for Haldimand-Norfolk.
"We've made great strides so far, and we'll continue working hard with our team and partners until all residents – once they are eligible – have the opportunity to receive the vaccine," said Sarah Page, Norfolk County Paramedic Chief and COVID-19 Vaccine Task Force Lead.
Learn more about vaccine rollout in Haldimand-Norfolk here.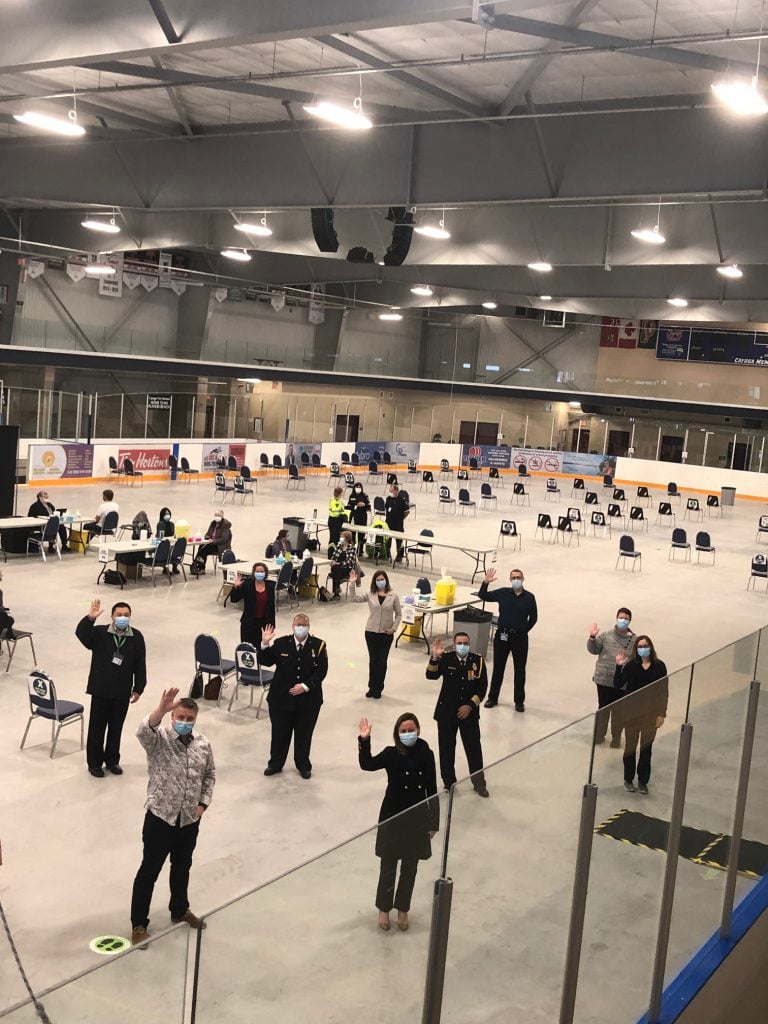 Pictured:
Kristal Chopp – Haldimand-Norfolk Board of Health Chair / Norfolk County Mayor
Ken Hewitt – Haldimand County Mayor
Sarah Page – Norfolk County Paramedic Chief / COVID-19 Vaccine Task Force Lead
Jason Gallagher – Haldimand County Paramedic Chief / Manager of Emergency Services
Heidy VanDyk – General Manager, Haldimand-Norfolk Health & Social Services
Robin Mackie – Executive Director, Norfolk Family Health Team
Sean Wang – Clinical Director, Pandemic Response, Norfolk General Hospital
Glenn Wiffin – Director of Clinical Services, West Haldimand General Hospital
Barbara Klassen – Executive Director, Haldimand Family Health Team
Dr. Natale Deroschers – Physician, Haldimand Family Health Team