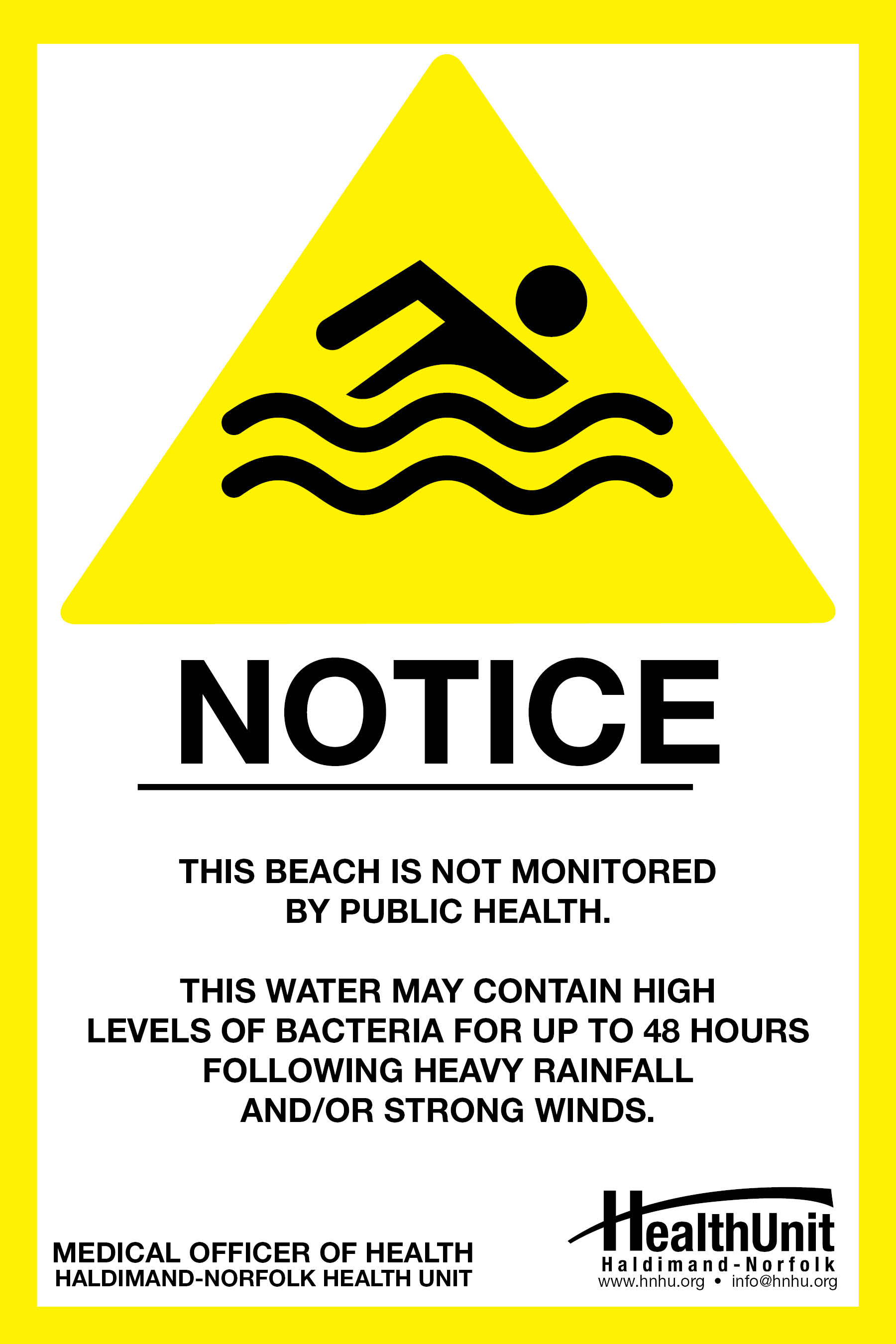 Notice: As of 2010 the Haldimand Norfolk Health Unit has discontinued sampling of beaches within our jurisdiction.
Testing is still being done at Provincial parks, and beach advisories for Rock Point, Long Point, Turkey Point and Selkirk Provincial Parks, and all other Provincial Parks, are posted on the following site.
The natural beauty of Lake Erie makes our local beaches and shores a wonderful place to swim, play and boat on a warm summer day. But under certain conditions, the lake's water quality can deteriorate to a point where swimming in the water may result in illness.
Water quality is heavily impacted by environmental conditions. Warmer waters in the summer are better suited for bacteriological growth. Also, the bacteria levels in beach water are often much higher following a heavy rainfall or high winds. As a general guideline, the Health Unit recommends that people avoid swimming in the lake for 48 hours after a significant rainfall and/or high winds as this may increase the presence of illness-causing bacteria, leading to an increased risk of illnesses such as diarrhea or ear infections for people swimming in these waters.
With a significant rainfall, rainwater flows to beaches after running off lawns, farms, streets, and other areas. Animal waste, fertilizer, pesticides, trash and many other pollutants are picked up along the way and end up in the lake.
A number of other factors can influence the amount of bacteria, including E. coli, in the water, such as animal waste runoff, boating waste, sewer overflows, waterfowl droppings, and seasonal and storm surface run-off.
Recent studies suggest that waterfowl droppings are the number one contributor to increased E. coli levels in beach water. One way beach-goers can help protect the water quality is to refrain from feedings ducks, geese, sea gulls and other birds at the beach.
Feeding can attract many birds, resulting in excessive bird feces in the water. Waterfowl feces on nearby shores are also washed into the lake by rainwater, contributing to higher levels of bacteria.
The most common illnesses contracted by those who swim in lakes with low water quality are infections of the eyes, ears, nose, and throat as well as upset stomachs. Typical symptoms include mild fever, vomiting, diarrhea and stomach cramps.
The Health Unit offers these additional tips to ensure your trip to the beach does not end with a water-borne illness:
Protect Yourself
Avoid swallowing lake water
Avoid swimming with an open cut or wound
Avoid swimming for 48-hours after a significant rainfall
Avoid swimming in murky/turbid water
Stay away from the water if you are experiencing digestive or intestinal problems
After swimming, wash your hands before handling food
Protect the Beach
Only take pets to designated beaches, and always clean up after them
Don't litter or discard food on the beach or in the water
Change diapered children in the bathroom frequently, not at the beach
Dispose of boat sewage in onshore sanitary facilities
Wash your hands with soap and water after using the toilet or after changing diapers
Beach advisories for Rock Point, Long Point, Turkey Point and Selkirk Provincial Parks, and all other Provincial Parks, are posted on the following site:
https://www.ontarioparks.com/alerts
Related Resources
Related Topics