It is illegal to bring in or to use a car seat, child seat or booster se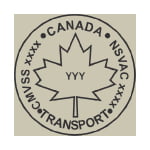 at made outside Canada. Foreign-made seats do not meet Canadian safety standards. Approved seats will have the Transport Canada label.
Car Seat Safety
Choose the right car seat for your baby:
Rear-facing
Infants under 9 kg (20 lbs). This is a minimum requirement under Canadian law. Some rear-facing car seats are made for children that weigh up to 20 kg (45 lbs).
Forward-facing
Toddlers 9-18 kg (20-40 lbs).
Use when baby is:
Over 1 year.
Can stand on his or her own.
Must be used with a tether strap.
Even if your child weighs 9 kg (20lbs), is able to walk on his or her own and provincial law says you can use a forward-facing seat, the rear facing position is safer.  As long as your child is still below the weight and height limits of your current seat, you should use that seat for as long as possible.

Using Child Car Seats Correctly
Keep children away from active air bags.
Children under 13 are safest in the back seat.
Follow the manufacturer's instructions for correct installation, weight and height limits and the use of a locking clip.
Use a tether strap with forward-facing child car seats.
Make sure all straps are tight.
You should only be able to fit one finger between the harness strap and the child's collarbone.
Kneel on the child car seat to push it into the vehicle seat, tighten and fasten seat belt, tighten to ensure there is no more than an inch of movement. Use a towel or pool noodle under the base to adjust the angle of the seat if necessary.
NOTES:
Car seats should not:
Have been in a collision, even a low-impact one.
Be under recall.
Be older than the manufacturer's expiry date on the car seat.
Show signs of deterioration, like cracks and wear.
Make sure it comes with instructions and hardware.
The Transport Canada website gives further information on car seat safety for infants, toddlers, pre-schoolers to 8 years old, youth and important tips. This includes information about recalls.
For proper installation of car seat, check the instructions with your car seat and check the owner's manual for your vehicle.
For proper installation of car seat, visit the Health Unit website for the next car seat clinic.
Safe Sleeping
Baby Safety while Sleeping:
Put baby on his or her back to sleep.
Never tie the baby into the crib.
Do not tie anything around a baby's neck or allow baby to wear a necklace.
Place the crib away from windows, curtains, blind cords, lamps, electrical plugs and extension cords.
Overheating is a risk factor for Sudden Infant Death Syndrome (SIDS). If the room temperature is comfortable for you, it is also comfortable for baby.
Do not use soft mattresses, pillows, comforters, stuffed toys or bumper pads.
Bassinet and cradle mattresses must not be thicker than 3.8 cm (1.5″).
Use fitted bottom sheets made specifically for the mattress size you have.
Check often to make sure hardware is securely fastened and not damaged.
Check that there are no small parts that could be a choking hazard. Make sure there are no sharp points anywhere.
Sleep positioners are meant to keep babies on their backs to sleep. They are often made of two pieces or foam that are attached together by a piece of fabric that the baby sleeps on. Health Canada does not recommend using these products because babies can suffocate on them.  Using makeshift sleep positioners, like rolled up towels, is also not recommended. When babies are able to turn over on their own, do not force them to stay on their back.
It is not safe for babies to sleep for long periods of time in baby carriers, bouncers, car seats, slings, strollers or swings. Once asleep, baby should be moved to a bassinet, cradle or crib. If baby falls asleep in a car seat, they should be moved once you have reached your destination.
Bumper Pads
Health Canada recommends that bumper pads never be used. This position is supported by the Canadian Paediatric Society, the American Academy of Paediatrics and the Canadian Foundation for the Study of Infant Deaths.
Sleepwear:
Cotton, cotton-blend and rayon fabrics catch fire and burn more quickly than most synthetic materials. Nylon and polyester are harder to catch fire and burn more slowly.
Tight-fitting sleepwear, like polo pyjamas or sleepers, is less likely to catch fire than pyjamas or nightgowns with flowing skirts, wide sleeves or large ruffles.
Dress your children in actual sleepwear when putting them to bed, instead of T-shirts or other day clothes. Most day clothes do not meet the flammability requirements for sleepwear.
Check for loose buttons or other small parts, which can be a choking hazard.
Health Canada recommends room sharing for the first six months of baby's life.
Bassinets
A bassinet that meets current Canadian safety regulations is an appropriate place for your baby to sleep until they reach the maximum weight recommended by the manufacturer or until they can roll over, whichever comes first. At this point, baby should be put in a cradle or crib. If the bassinet has removable fabric over the frame, check often to make sure the fabric is securely attached to the frame.
Cradles
A cradle that meets current Canadian safety regulations is an appropriate place for your baby to sleep until they reach the maximum weight recommended by the manufacturer or until they can push up on their hands and knees, whichever comes first. When your baby reaches this milestone, they should be put to sleep in a crib.
Crib
As of June, 2016, Health Canada regulations include a ban on the sale, import, manufacture or advertisement of drop-side cribs.
The Crib:
Follow the manufacturers instructions for putting crib together.
Look for a label on the crib that shows when the crib was made.
Check the crib often to make sure the frame is solid. Tighten screws regularly.
There must not be a gap of more than 3 cm (1 3/16″) between the mattress and any part of the crib's sides. Push the mattress firmly against the sides of the crib to test this.
The Mattress:
Crib mattresses should not be thicker than 15 cm (6″).
Make sure the mattress is tight against all four sides of the crib.
Replace the mattress if it is not firm or if it is worn-out.
Move the mattress down to its lowest level as soon as baby can sit up.
Playpens
A playpen should be a place where baby is safe. Make sure the playpen is a recent model with small holes in the mesh.
Walls need to be made of mosquito-type netting or other fine mesh.
Playpens should not have more than 2 wheels or casters.
All playpens must pass stability tests so they will not tilt or collapse on top of child.
Avoid adding blankets, pillows, extra padding or extra mattress. Using these items could cause a baby to suffocate.
Keep all sides securely locked in place.
Playpens are NOT intended to be used for unsupervised sleep because they do not meet the same safety requirements and are not as durable as cribs.
Baby Walkers
Effective April 7, 2004, baby walkers are illegal in Canada.
You may not buy a baby walker.
You may not advertise a baby walker.
You may not bring a baby walker home from another country.
You may not sell a new or used baby walker. This includes garage sales.
Please destroy any baby walker you may have.
Sun Safety
Sunscreen should NOT be used on babies under 6 months of age.
Babies may be outside in full shade.
Baby should still be totally covered.
Use lightweight clothing to stay cool.
Baby's skin can be easily damaged by the sun.
Limit being outside for long periods between 11 am and 4 pm as the suns UVB rays are strongest at this time.
One sunburn in childhood may increase the risk of developing skin cancer later in life.
All sunburns should be avoided, but particularly by children.
You can protect children over 6 months of age by following these simple precautions:
Don't let infants or young children play or sleep in the sun.
Don't let young children stay in the sun for long periods, even when wearing a sunscreen.
If your children have to stay outdoors for a long period, make sure they wear protective clothing, including a hat and sunglasses.
Get your children used to wearing sunscreen lotion, paying particular attention to the most exposed parts – the face, neck, shoulders, back, knees and tops of feet.
Carry sunscreen with you and reapply every two hours. If you are swimming, reapply sunscreen more often.
Insect Repellents
Read the product label so you know what is in the insect repellent.
Current labels on insect repellents containing DEET state that they are not to be used on children under 2.
Health Canada and the Canadian Paediatric Society now recommend that:
For Children under 6 Months of Age:
Insect repellents containing DEET should not be used (DEET is the active ingredient that repels insects).
Use netting instead to keep insects away from baby.
For Children 6 Months to 2 Years:
One application of insect repellent per day may be considered in situations where a high risk of complication from insect bites exists.
Apply the product sparingly. Do not put it on baby's face or hands.
Use only the least concentrated product (10% DEET or less).
References:
Canadian Paediatric Society (online), 2014
Health Canada (online), 2016
KidsHealth (online) 2014
Health Canada Consumer Product Safety (online) 2011
Ministry of Transportation (2015). Choosing the right child car seat. Retrieved from http://www.mto.gov.on.ca/english/safety/choose-car-seat.shtml.
Parachute Canada (online) 2016
Transport Canada, (online), 2016
Related Resources