Parents: All children attending school in Ontario are required by law to report their vaccination status to the local health unit. 
Please note: Physicians and schools are not responsible to provide your child's vaccination information to the health unit. 
How to submit your immunization records online
You will require your Ontario Health Card Number (OHCN) and Ontario Immunization ID Number (OIID)
If submitting dates, you may only require your OHCN.
Call the Health Unit to get the Immunization ID Number if the system asks you for it, in order to "view" or retrieve your records (519-426-6170 ext. 3214).
INSTRUCTIONS TO REPORT ONLINE
ICON is a secure online system for reporting and keeping track of immunization records
Steps:
Click on the green "ONLINE" button below
Click "Get Started"
Click if you are using a "Public Device"or "Personal Device"
Read the Acceptable Use Policy, click "Accept"to move to the next screen.
Enter all the information under "Verify with Health Card Number"and click "Verify Patient"
If you have not done so already, you will be asked to set up a 6 digit PIN (password) for future use. Enter the information and click "Set PIN" and then "OK"
–OR–
If you already have a "PIN", enter it now.
You will now be able to view the record of your child's immunizations, and also view which immunizations that may be missing.
Click "Submit Immunizations"to report any missing immunizations from the record above.
Follow the instructions to complete the "Immunization", "Documents", "Patient", "Review" and "Confirmation" pages and submit your immunization records.

Please choose from the options below to report your child's vaccination status.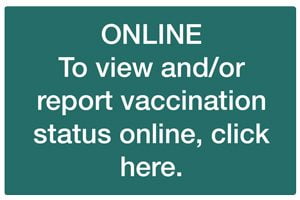 Troubleshooting
If you experience any issues using ICON, please call 519-426-6170 x 3214.
EMAIL
MAIL
To report vaccination status by mail, send a copy of your immunization record (sometimes called a Yellow Card) to:
Attn: Vaccine Preventable Disease Team
Haldimand-Norfolk Health Unit
12 Gilbertson Dr.
P.O. Box 570, Simcoe ON
N3Y 4N5
PHONE
To report vaccination status by phone, call
(519) 426-6170 Ext. 3214
(905) 318-6623 Ext. 3214
DROP OFF
Drop off a copy of your immunization record (sometimes called a Yellow Card) at one of our office locations:
Simcoe: 12 Gilbertson Dr.
Caledonia: 100 Haddington St
Dunnville: 117 Forest St. East
FAX
To report vaccination status by fax, send a copy of your immunization record (sometimes called a Yellow Card) to: (519) 426-9246
Don't worry if your child's vaccinations are overdue, we've got you covered. Please see Immunization Clinics for more information on where and when you can receive immunizations.
Always losing your yellow card? There's an app for that. Check out https://www.canimmunize.ca/en/home
All the vaccines needed for school are free. For other recommended vaccines, please see Ontario's Publicly Funded Immunization Schedule.