National Non-Smoking Week acknowledges breaking up is hard to do
News & Events
National Non-Smoking Week acknowledges breaking up is hard to do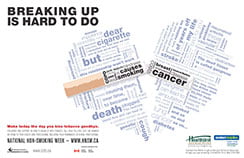 SIMCOE, JANUARY 15, 2012 – Tobacco users across the country are being encouraged to kiss tobacco goodbye during National Non-Smoking Week, which runs from January 15th to 21st.
While kicking a tobacco addiction is not easy, the Haldimand-Norfolk Health Unit is hoping local residents will gain some extra motivation through the Canadian Cancer Society's seventh annual Driven to Quit Challenge, which is open from now until February 29.
"The Driven to Quit Challenge is a great opportunity for someone to make a first or second, or even six or seventh, attempt to stop using tobacco products," said Haley Caldwell, Health Promoter with the Health Unit. "We have free Quit Kits available at the Health Unit full of resources to assist you in your attempt to quit smoking for good."
As a reward for breaking free from tobacco, in addition to the numerous health benefits, challenge participants will earn a chance to win their choice of a 2012 Ford Fusion or Ford Edge. Two $5000 CAA travel vouchers and seven $2000 cash prizes will also be awarded. One of the cash prizes is reserved for a resident in the Haldimand-Norfolk area.
The challenge is open to Ontarians aged 19 and older, who had smoked for at least 10 months in the year 2011. Each entrant must sign up with a support buddy, who stands to win $200 cash. To be eligible for the prize draw, participants must stay smoke-free for all of March 2012.
2011 Driven to Quit Challenge grand prize winner, Brian Perkins, traded his thirty year relationship with cigarettes for some new connections.
"The biggest help was being online on Facebook, reading comments, getting feedback from other people quitting," said Perkins, who is still smoke-free. "Being able to form relationships with other people who understand what you are going through is a big help."
The Driven to Quit Challenge community can be found online at facebook.com/smokershelpline and twitter.com/smokershelpline.
To register and for details about The Driven to Quit Challenge, Ontarians can go to www.DrivenToQuit.ca or call the Canadian Cancer Society Smokers' Helpline at 1 877 513-5333. Quit Kits are available by contacting the Haldimand-Norfolk Health Unit at 519-426-6170 ext.3248.
-30-
Media contact:
Haley Caldwell
Health Promoter, Population Health Team
Haldimand-Norfolk Health Unit
Ext. 3248 at either 519-426-6170 or 905-318-6623
[email protected]
About the Driven to Quit Challenge
The Driven to Quit Challenge is hosted by the Canadian Cancer Society, Ontario Division, with funding from the Government of Ontario and generous prize support from McNeil Consumer Healthcare, a wholly owned subsidiary of Johnson & Johnson Inc. The Driven to Quit Challenge is presented in collaboration with local public health departments across the province.
About Canadian Cancer Society Smokers' Helpline
Smokers' Helpline is a free, confidential service that provides personalized support, advice and information about quitting smoking and tobacco use. Operated by the Canadian Cancer Society and funded by Government of Ontario, Smokers' Helpline has three ways to help Ontarians quit: phone support, online program and text messaging at 1-877-513-5333 and SmokersHelpline.ca.